The best gifts are often those that are customized and creative! In our search for great new personalized gifts, we found a company called PhotoBall that prints high-resolution personal photos,any text, or logos on real sports balls, hockey pucks, pet balls and holiday ornaments. Since quick turn-around is a must in today's shopping environment, PhotoBall will print and ship in 3 business days or less! This is great foralmost everyone on our gift lists, including kids, parents, grandparents,coaches, and even the last-minute hard-to-buy-for relative. They also make great wedding gifts, baby announcements & gifts, graduation gifts, promposals, bar /bat mitzvah commemorations – basically, the possibilities are endless! And for large group orders, the discounts are impressive. The company is based in Kansas City, so shipping within the U.S. and Canada is quick and easy!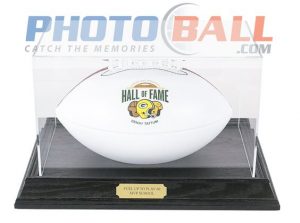 And speaking of the heart and, PhotoBall's parent company BallStars began as sports memorabilia company in Kansas. Two decades later, it is now entirely female owned and operated with a global reach and three brands. PhotoBall is their new exciting foray selling directly to consumers!
The technology of transferring an image onto an object with curved surfaces is globally patented.It was such a unique and scalable process that at first BallStars sold the printing machines to over 500 licensees worldwide. That was back before the Internet was something you could access without a five-minute wait; well beforee-commerce was anything more than a crazy programmer's dream. Back then, it actually made sense from a distribution standpoint to sell the process, not the product.
Oh, how times have changed! Now, PhotoBall has the whole thing down to a science. It's not just higher quality products, easier creation, and faster turnaround, but it's also more efficient (that means you pay less), too.
Now, you can shop and create it all right online. Just upload your own images, select your ball, and fall in love with your creation. Then one of PhotoBall's employees will lovingly print your ball like it is for someone in their family and ship it to you on the same day. It's that easy!
Again, the opportunities for gift giving are endless. While photos are great, you can also send a photo of a child's favorite masterpiece or artwork that just has to be memorialized (and shared with other family members). These are great on a holiday ornaments that you will enjoy for years to come. The ornament is shatterproof with a pearlized finish. 2018 can be the start of a new tradition for an annual family ornament. It is an easy and affordable way for anyone to create custom and meaningful gifts for family members or their own collection.
The company offers all kinds of sports balls: football, basketball, volleyball, soccer,baseball, softball, rugby, water polo, lacrosse, tennis, golf, hockey pucks, and even cricket too! Since Holiday ornaments and pet balls are round,PhotoBall prints those too! These are perfect for sports teams as souvenirs or trophies featuring a team name, photo and season record or with individual player photos, names and jersey numbers. Great for coaches and parent volunteer gifts! They can be fun souvenirs for weddings as favors or groomsmen/bridesmaid gifts, community events or fundraising efforts.
We think PhotoBall is an amazing unique way to create customized gifts that everyone on your list will love. Now if we could just stop ordering them for ourselves and get back to our gift lists!