If you're a business owner or are in a management position, establishing a positive relationship with your employees is one of the major keys to productivity and success. One often overlooked way to show your appreciation as a boss is giving a timeless gift.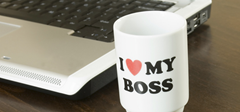 Image sent by writer
Instead of a gift card to a local restaurant or a bottle of cheap wine, this year give your employees gifts that show how much you value not just their work but them as individuals.
1. An Engraved Watch
Watches are always a classy gift, and one that's engraved further drives home a message of appreciation. For bosses, an engraved watch is a special gift that's particularly suited for commemorating someone's time with the company. For the watch selection, be sure to solicit the advice of someone of the opposite sex if the recipient is also. You don't want to give a gift they'll hate.
2. Vintage Wine
Cheap wine has always been a popular office gift, but it's never been a good one if you're trying to inspire motivation in your employees. Instead of the $15 bottle, do some research and invest in a bottle your employee will save for their daughter's wedding day or for their own retirement.
3. Home Security System
If you prefer to choose unique gifts for each employee, one unique idea that's certainly timeless is a home security system. If your employee just bought a new house or has no security, offer to pay for a home security system to show your appreciation as their boss.
4. First-edition Copy of Their Favorite Book
If you have an employee who's an avid reader, a great timeless gift is a first-edition print of a book they love. Because such copies are often rare and seldom for sale, especially with classic novels, this is a gift literature lovers will cherish more than anything else on this list.
5. An All-inclusive Vacation
Everyone dreams of an exotic vacation, but only a few ever get the chance to make it a reality. Therefore, a great gift idea for an employee is an all-inclusive vacation to a destination of their choice. If that's too expensive, try giving a vacation to a nearby place that is still fun, romantic, or exciting.
This particular gift doubles as a great wedding gift for a just-married employee, but everyone in the office would appreciate the opportunity to explore—on the company's dime—a nation and a culture they've always admired.
This article was written by Dixie Somers.