If you have a family member or friend who is getting married in the near future, you will want to ensure that you get them and their partner the best wedding gift possible. Doing so will only help to enhance an occasion that is already very special. With this being said, it can sometimes be difficult to choose a gift that is both useful and enjoyable, so we have listed five unique wedding gift ideas below that are sure to be loved by anyone who receives them.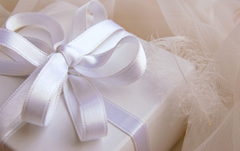 Image sent by author
Beautiful Artwork For Their Home
Couples who are newly married often find themselves in the position of needing to decorate their living space, so why not get your friends some quality artwork that they can use to get this proces started? Artwork is a great gift idea that not many people consider for newlyweds, but one that they will undoubtedly appreciate for many years to come.
A Useful And Commemorative His And Hers Pillow Set
Bed linens are one of the most commonly given wedding gifts, and his and hers pillows are the perfect gift option to complement this item that your friends will undoubtedly be receiving. One of the best things about a his and hers pillow set is that they can be very easily customized with the names of your friends who are getting married, or with any other thing that you would like added to them to commemorate their big day.
A Relaxing Couples Massage
For as much as a wedding can be an enjoyable and uplifting experience, it will likely come with quite a bit of stress for your newlywed friends. Give them the gift of a little bit of relaxation in the form of a gift certificate for a couples massage at a spa near where they live. This will be the perfect way for them to unwind after their busy wedding and honeymoon, and they will surely appreciate it.
A Beautiful Leather Photo Album
A genuine leather photo album is probably not the first idea that pops into your mind when you consider wedding gifts, but that does not mean that it is not an excellent option. In fact, because this is an idea that most people will not think about, it will stand out even more and your friends will surely be thankful for it. A photo album is a beautiful idea in itself, but add a genuine leather design to the mix and you have the perfect wedding gift option.
Dishes For Their Kitchen
Even though dishes are probably one of the most common wedding gift ideas out there, they are still something that your friends are sure to appreciate. The costs that come with getting the little things, such as serving dishes, that they will need to get their life together started can quickly add up, so your friends will be thankful for anything that you can get them that will help to alleviate this. Serving dishes are always a helpful gift option, as they are able to be used for years to come.
These are just a small handful of the unique wedding gift options that are available to you. Any of these will surely please your friends on their special day.
By Rianne Hunter