In today post I will give you 5 home furnishings and decor gift ideas.
This presents are great for new house gifts.
1. Comforters

Comforters are generally large and rectangular in shape, filled with natural or synthetic insulative material and encased in a shell/covering. Like quilts , comforters are generally used with a set of sheets. Comforters are available in standard bed sizes, but their thickness varies among brands and models.
You can find a high end hypoallergenic goose down comforter to a more modestly priced polyester filled down comforter.
2. Therapeutic pillows
Therapeutic pillows are perfect to aid you with getting a great night's sleep.
If you have friends who can't get a good night sleep the therapeutic pillows are the recommended gift.
Tip For pregnant women you can get pregnancy pillows. Pregnancy pillows can be as minimal as a wedge placed under the belly or as large as a full-body pillow. Help support your belly and your lower back when you lie on your side, the recommended position for sleep during pregnancy.
3. Cocktail tables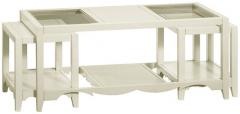 Cocktail tables are placed around the perimeter of the room, allowing open space in the center for mingling and dancing.
When choosing a cocktail table you must consider the style of the room where it will be placed.
4. Candlesticks
Almost everyone use candle to create a special atmosphere so the Candlesticks will be a very appreciated gift.
Candlesticks can turn any dinner into a magical event with or it can be use to illuminate holidays table.
5. Bar sets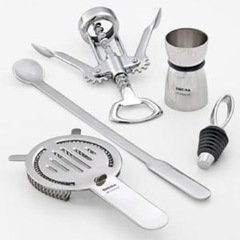 Bar sets are ideal for corporate gifting because these sets have more than one bar accessory. Moreover these sets are available in many forms such as wooden, steel etc.
Where to buy them
There are thousands online and off line shops selling home furnishings and decor so you can choose anything you like.
I like this shop directory because it finds every store on the internet by crawling like Google. Traditional shopping sites will only show you stores that have PAID for placement, but ShopWiki will give a shopper everything. For a shopper, this means you can find anything and everything for sale.