Father's Day is fast approaching, so now might be the perfect time for you to find the perfect Father's Day gift for your dad. However, if you are sick and tired of giving him coffee mugs, wine, wine glasses, carpentry tools and all other typical manly gift items, then you may want to consider something unique and convenient for him. If you're father's the type who loves sitting outdoors, then why not give him an outdoor bench?
An outdoor bench is inexpensive and is also a great way for your dad to relax after a whole day of gardening. But just for kicks, let's take a look at some of the best outdoor bench designs made. If you know a good deal of carpentry, then you just might be able to surprise your dad. Of course, if you're not too confident with your handyman skills, then you'll have to contact someone who builds custom-made outdoor bench. Yes, you do have to pay extra, but don't you think your dad's happiness is more important than just a few bucks?
Portable Rolling Outdoor Bench
Images sent by author
This is the kind of bench that I want; made from wood and cheap materials and, not to mention, portable! When choosing a different location, just grab and push the outdoor bench just like a wheelbarrow. This is especially handy when visiting the beach for an extra outdoor bench. The design is quite simpl; just build a basic outdoor bench but place a wheel underneath. The wheel should be installed just like a wheelbarrow. Don't forget to place two handles so you can just push and pull the outdoor bench when you need to place it in a different place.
Plastic Aluminum and Bamboo Bench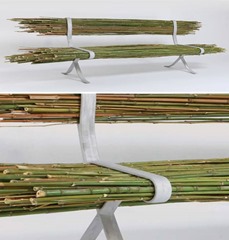 If you don't like using a hammer, a saw, some wood and nails for your outdoor bench, then why not use this very simple but relaxing design? In Asia, the bamboo is a versatile type of wood that does not break easily when sat on for many times. Rather, it bends whenever something heavy is placed on bamboo. For this design, you just need a basic pair of aluminum frames that are threaded with dozens of freshly-cut bamboo stalks. In short, more bamboo stalks means that the bench becomes sturdier when sat on.
This is a really good bench design for people who are concerned with buying expensive wood.
Convertible Wooden Bench-To-Chair
Some call it the folding outdoor bench, but I'd say it's a convertible outdoor bench. The design's simple enough, but if you're not too comfortable when it comes to the building phase, then you might want to get a professional carpenter to build the design for you. As the name suggests, it's an outdoor bench at first, but if you want to get more comfortable while sitting down, simply fold and your outdoor bench transforms into a comfy chair.
I'm sure that there are still a lot of outdoor bench designs in the Internet, so just take your pick and choose the one that suits you the best. Make this year's Father's Day memorable for your dear father!
About the Author:
Jess Greenberg is an avid blogger from San Diego, California. During her day-off, she loves going out with her friends to hang out. When she has to stay indoors, she goes about her day updating her blog, Wordbaristas.com.