Here are 3 Last minute Christmas hampers gifts:
#1. Christmas Cracker Hamper
This fresh and attractive gift really is a 'cracker' of a hamper. With its contents carefully chosen for appearance as well as taste, it is bursting with flavour and variety. From Beech's chocolate selection to clotted cream fudge, choc chunk shortbread to sticky onion chutney, there are pleasures to suit every preference.
#2. Chocoholic's Choice Hamper
This is, quite simply, the only possible gift for the chocoholic in your life. Here at Virginia Hayward we take chocolate very seriously indeed and extensive testing has been carried out to make sure that this gift will satisfy your chocolate requirements.
A slab of Gwynedd Dark Art on White Chocolate Bar, Chocolate Cake, Very Lazy Chocolate Sauce – what more could anyone want? Except perhaps Cole's Triple Chocolate Pudding, the most deliciously chocolatey pudding we have ever discovered.
#3. Six Wines in Wood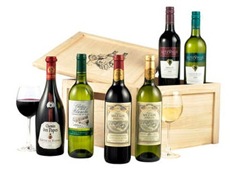 A suberb, versatile gift on the one hand, but if you fancy treating yourself then just go ahead! Six top notch wines which are sure to impress your guests.
Bonus gift idea
Chocolate Mosaic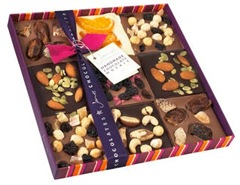 Described by James Chocolates as an innovation – this is the original, much copied, but still the best grandstand gift for real lovers of proper chocolate! The mosaic comprises nine chunky tiles of milk, dark and white chocolate, each decorated with an array of nuts and luxury dried fruits.