No matter how careful you are there are some ornaments which slip through the fingers or children damage them. Before you go ahead and give those broken or damaged ornaments away or you through them think about reusing or recycling them for the next holiday season.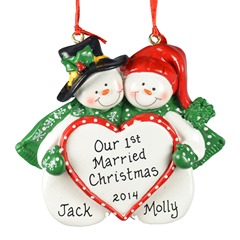 Image source ornamentsandmore.com
Let's see how we can use different ornaments in a different way for holidays or throughout the coming year.
Christmas Ball
Christmas balls can be used as a great reflecting material with chandeliers. If you have a hanging chandelier, then you can decorate it with Christmas balls, it will not add to the beauty of the chandelier, but will also create reflecting patterns on walls if placed correctly. If not chandelier, than you can collect different color balls or in a combination in a glass bowl, and use it as a table's center piece. You can also use them as decorating material during some special occasions; place them around candles or dim light sources to provide that special atmosphere.
If some Christmas balls break, then don't throw them either, collect them carefully and try to break all the big pieces into small ones. The shattered and smashed pieces could then be used as glass glitter to decorate ornaments in the future or to decorate gifts.
Evergreen Christmas Wreath
You can use the Christmas wreaths as a decoration material for other occasions, for decorating a wall, table or a painting, to add that colorful touch. And if you could break it down, then you could decompose the wreath, and it would be useful in many other ways.
Now the most obvious of them being the bow, you could use them to decorate gifts, paintings, and cards. Now practically bow can be useful in many other ways; you just need to be creative. Even your kids could find some use for the bow in their projects.
Now I know you could definitely find some use for the metal ring and the florist wire. To name a few, you could use the rings for projects that your kids get assigned to. Rings could also be used in games.
The evergreen needles could also be used for the next camp fire. You can compost the needles and then they could be used as a good material for kindling up the camp fire.
Just word of caution, just don't decompose your ornaments if you find any of these uses interesting. Do wait for them to show signs of ageing!
Author Bio:
Ornaments and More have over 5000 unique ornaments for every occasion and every person. Their Personalized Christmas Gifts.have given many families great joy on every holiday season. Visit Ornaments And More today to choose your Personalized Ornaments today!