Hunters can be a bit of a challenge to buy gifts for. Although there's a lot of paraphernalia associated with hunting, most of it needs to be of high quality so that it doesn't break down in the field. Weight and volume are also important on longer or more remote expeditions, so gear needs to be carefully chosen. Here are some basics that any hunter will love, though.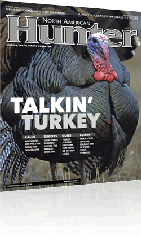 Image source huntingclub.com
1. Boots
A pair of good hunting boots always comes in handy, whether you're watching the sun rise on a damp, cold morning or you're tracking game over tricky terrain in the afternoon sun. The ideal pair will be sturdy enough not to go to pieces on sharp surfaces yet still able to get a good grip while on smooth rock or in mud. Depending on whether your hunter friend prefers to be out in the wet and cold or in hot, dry conditions, you also need to decide on well-insulated and waterproofed versus breathable and light. Just make sure you know your friend's shoe size since nothing spells torture like a miles-long trek over rough terrain in badly fitting shoes.
2. A Good Jacket
Again, exactly what good means will vary depending on your friend's favorite hunting ground and season, and the classic extremes will range from a parka fit for a winter hunt in Siberia to a hunting vest in the African veld. Extremes aside, a good leather jacket is a classic that usually scores points both on the hunt and off, is great for moderate weather, and keeps the water off really well.
3. A Good Hunting Knife
Hunting knives are a very personal choice for a lot of hunters, so choose this gift only if you really know what the person likes. Size, shape, blade, and handle are all matters of taste. Make sure you know if your friend is a practical guy/gal who'll value a utilitarian survival knife with a high-tech grip and blade, or if they're the connoisseur type who'll appreciate a damask blade and bone/hardwood handle.
4. Ammo/Arrows
This is another one that needs some specific knowledge about the recipient's likes and dislikes as a hunter since there's a wide range of ammo and arrow types to choose from. Research in hunting magazines could help a lot in making a choice.
5. A game cookbook
A good hunt deserves a good meal to celebrate it, and it's a great way to appreciate the animal that provided your meat. Look for recipes that don't get too fancy and don't require a lot of specialized equipment so they can be enjoyed either by the campfire or in the comfort of the home. With that said, a foodie might appreciate ideas for some more complex feasts. Make sure you know what level their current cooking skills are at so you don't give them something that's either too complex or too basic.
Brandon Peters is an entrepreneur, a writer, a foodie, and an adventure enthusiast. He enjoys the outdoors and cooking with unusual ingredients.