Several people today seem to use tech gadgets since it is needed but there are also people who are thrilled and overwhelmed by these gadgets. If you are planning to give a gift to someone who is a tech fan, then you should do your research well to make sure that your recipient would be pleased with your gift. Below are some good ideas.
Pebble Watch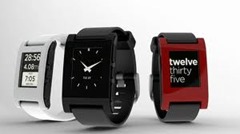 Image source g4tv.com
This watch is intended to be connected to your smartphone or else it would not serve its function aside from telling the time. With this, you can receive texts, updates and other features in your smartphone without having to get your phone out of your pocket. It sounds really promising and handy since getting your smartphone out of your pocket from time to time is quite a hassle.
Lytro Camera
This camera is good for tech guys who love to take pictures. With this, you can refocus the image you have taken endlessly depending on your preference. You can even share your pictures to anyone and they could also refocus the picture you shared. Your pictures would surely surprise almost everyone.
Jaybird Freedom Sprint
A Bluetooth earphone would surely be a common gadget for a tech enthusiast but the problem is that most of these earphones are easily damaged with just a few drops of sweat. The Jaybird Freedom Sprint gives you an assurance that it would not rupture even when you perspire. It is backed up by a lifetime service contract against sweat.
Tech fans today would normally have a laptop and as we all know there are some laptop keyboards that lack numeric keypad. The keys on the numeric keypad are integrated with some keys on the keyboard which is quite confusing to use most of the time. This is why a USB numeric keypad would be the best gift for a person who owns laptop without keypad.