You'll find very few people in this world who don't like receiving gifts and there are quite a lot of people who love giving them too. It's very satisfying taking the time to create something for a loved one.
Personal taste
If you want to get someone a new notebook but can't find one that would appeal to them then you'll need to take matters into your own hands.
Image credit: Childofwar
Find a notebook and use it as the base for your gift. Then think about the tastes of the person you will be giving it to. If they're interested in music perhaps cover the notebook in a poster of their favourite band. If they are interested in comic books then you could create some decoupage out of cheap ones from a flea market. Or, if you want something simple, crepe paper in the person's favourite colour is great for covering notebooks.
Unique
At lot of people appreciate having things that no one else does, and rightly so! There is some charm to mass-produced items but that's soon lost once you realise you're wearing the same top as at least three other people wherever you go.
Making an item of clothing or some jewellery as a gift is a great idea because you give the recipient something to show off.
Filling a niche
If you know that your friend's favourite scent is mint chocolate but can't find a candle to replicate that then you'd be better off making your own. Candles are very simple to make, you'll need wax, a wick, a container (tea cups are great!), and some essential oils for the scent.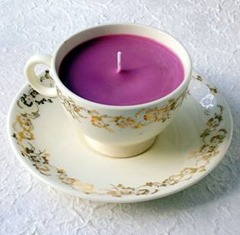 You might need to find a recipe online or you can work by trial and error to get the mix of smells just right.
Cheap and easy to make
You're not going to want to come across as cheap and some people have it in their heads that handmade gifts are just that. However, if you put enough time and effort into something and give to the right person then they're bound to be pleased. Something of similar quality in the shops is likely to cost much more than what you made it for.
One thing that's good to do is make things is bulk for people during events such as Christmas and Easter. You might plan to make biscuits as gifts or posh chocolates. These make stunning gifts when wrapped up in clear bags and decorated with ribbon, or popped in jars with pretty lids.
Buy your ingredients in bulk and have a mammoth baking session. It might take all day but you'll be able to make gifts for 10-20 people if you get your timings right.
Make sure you present everything beautifully (no re-used takeaway tubs) to really show off your hard work.
Author bio
Jess Shanahan is a writer and baker who has recently discovered how much people love being given home-baked goodies as gifts.