When a loved one is deployed, it can be a challenge to think of creative care packages as the weeks stretch into months. In the hustle and bustle of daily living, the idea of sending your deployed loved one a special gift may get pushed to the side. Keep in mind that your soldier sincerely looks forward to personal care packages from the ones he or she loves the most.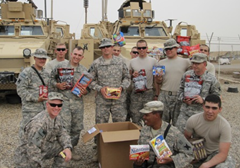 Creative and fun care package ideas are limited only by the sender's imagination. If the sender's imagination needs a little kick start, browsing the web or talking to other military families can provide inspiration. Holidays, even minor ones, are a fun time to send quirky packages. St. Patrick's Day and Ground Hog's Day are good excuses to let your solider know he or she is always on your mind.
Children can send Dad a cut-out of their hand. Every so often, send another hand cut-out of a different color, to show how much his little one is growing. Photos and/or DVD recordings of special events will make the soldier feel a part of the family's life. But don't stop there. A week's worth of "Day in the Life" photos or a DVD recording will be a favorite possession of the soldier. It may seem boring to the family, but that taste of everyday family living will be a life line to the soldier so far from home.
Husbands or wives may want to consider packages with a little more sentimentality. Photography studios offer alluring, yet tasteful photo sessions so you can send something sexy to the one you love. Sending your soldier a bottle of her favorite body soap will please her, but letting her know that you keep that scent near to feel close to her, will melt her heart. Don't be afraid, wives, of sending a small bottle of your perfume. Your lover can steal a whiff of your scent when he misses you most.
Of course, every military family knows to follow the rules set forth by the armed forces. Be aware what to send, how far in advance to send it, and what type of shipping containers to use. This will assure your care package will arrive undisturbed and will bring the happiness you intended. Those special deliveries may be just what your soldier needs to keep on going until it's finally time to come home.