Businessmen can be difficult to shop for, often having regal taste with specific preferences that make it intimidating to give the right gift. There are a few common gifts that can be enjoyed by all types of men climbing the corporate ladder as a way to celebrate the person or thank them in several ways.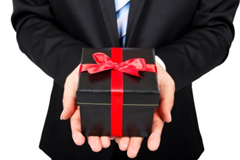 Image sent by author
1. Elegant Bonsai or Succulent Plant
Bonsai and succulent plants are trendy and modern, decorative for the desk and easy to survive different climates for a masculine addition to any office. They require a minimal amount of care and can be placed in square wood planters to match any style of office.
2. Golf Clubs
For the man who enjoys getting away from the office for a few hours or even golfing during business, golf clubs are a high-end and regal gift to give to provide a great way of getting exercise and enjoying a break from work.
Golf clubs can be given in addition to golf tees or balls from Golfmotion, with different brands and golf divot tools available to enhance the hobby for the businessman.
3. Monogrammed Money Clip
Money clips are sophisticated and professional for the modern businessman, a timeless piece that can be used for a lifetime and make it easy to keep cash together without a bulk wallet. They come in different styles, most commonly in either silver or gold with engraved initials or even a significant date placed.
4. Glass Paperweight
A sentimental glass paperweight can work to create decor in the office that adds aesthetic appeal to the office space, while even having a personalized message created in the glass with a laser. This can be either a professional or loving message, depending on the relationship, and is sophisticated for any desk, while making it easy to keep papers organized with a sturdy weight.
Images can also be placed inside of glass paperweights for a way to frame a special photo for a creative way to preserve a special memory.
5. Cigars
Cigars are a great gift for a promotion or as a way to give thanks, a classy and high-end gift that is incredibly masculine and can be enjoyed for a long period of time for businessmen. Several different price points are available with different types of shapes, between torpedo to presidente. Cigars vary between light to dark, depending on personal taste, which works to provide a personalized gift that is dependent on the businessman's specific preference with cigars.
By Annette Hazard