Today I will show you 5 gift ideas for home.
#1. Soho Spices 8 holder spice rack
Soho Spices stainless steel free standing spice rack with 8 storage containers and an L shaped stand. Made in America the patented twist and shake spice containers all have magnetic bases for easy storage and fast access. As well as the included base the containers will stick to most fridges and other metallic surfaces.
The twist and shake spice containers have 3 top positions. Simply twist to either 4 small holes for dusting, 1 larger hole for measuring large quantities or to close.
#2. Black and Blum Ringo magazine rack
Black and Blum Ringo magazine rack. A minimal yet sculptural freestanding magazine rack made up from four nickel plated rings. It can hold plenty of magazines and is also easy to lift should you need to move it around.
Black and Blum are an Anglo Swiss partnership who are based in London. Their aim is to create innovative products that charm and entertain.
#3. j-me nest floor standing shoe rack
Following on from the iconic j-me 'floating' shoe rack the j-me design team have come up with a new twist on the concept. Still using the rack to gently hold the tip of each shoe, the free standing nest rack provides space saving storage by elegantly stacking footwear within a free flowing stainless steel form. Each floor standing rack can hold up to 7 pairs of shoes. Also available as a stackable wall mounted version the nest shoe rack gives you a much more compact solution to shoe storage. Holds most types of either women's or men's shoes.
j-me specialises in the design and manufacture of contemporary cool gifts and accessories for the home. Their products balance fun with function in their witty form and user friendliness. The j-me philosophy is to create everyday products and unusual gifts that will put a smile on your face.
Ever thought that your remote controls need a home other than down the back of the sofa. Why not invest in a sculptural piece that can store up to 4 remotes. Made from non slip rubber this tasteful solution from j-me means that you never have to go hunting for the remote again! As soon as you're done with your remote control just place it in one of the 4 chambers. Each chamber will comfortably hold a single remote.
#5. Black and Blum Time Square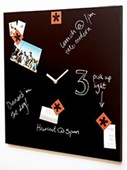 Black and Blum Time Square is a blackboard, a clock and a magnetic notice board. It's up to you how you decide to use it. With a steel frame coated in blackboard paint the clock has an electric quartz mechanism. It's supplied with 4 magnets, a pack of chalk and wall fixings.