Every parent in this world wants to support and make their child/children happy. That is why every time they excel in education or sport activities, having birthdays or other special occasions, they give something to their children so that they can fully celebrate and enjoy the moment. Parents often give gifts that are enjoying and promotes safeness . I am one of those parents and below this paragraph is my list to support you about the top five best gift ideas for your kids;
1. Bicycles (bikes)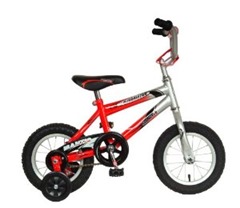 Image source amazon.com
– I included this on my top five list because bicycles are common to kids these days. They use this type of vehicle to travel and wander around the neighborhood, chatting and laughing while they are pedaling it. Bicycles are also the taste for both boys and girls. Just a tip, choose the type of bicycles that has child support contact number to it so that if you should buy accessories to their bikes like hello kitty heads and barbie stickers for girls, and flame stickers for boys, you can inquire them or maybe they can give you recommendations. So I recommend this to you when you want your child to be "open" to other kids and let them discover what the world is like when they are outside.
2. Stuff toys
– Stuff toys does not just make your kids smile, but also makes them not to be lonely. If they are alone, they can just play-talk to their stuff toy for them to talk to, it is natural for them. Stuff toys also helps your children when they are afraid of something. In what way? For example, if he/she's alone in a room and lightning strikes very loud, he/she can hug the stuff toy for relief. Just like when kids hug their parents because other kids are bullying him/her.
3. Angry Birds (real-life toy)

– This is the best gift I can tell you when talking about "satisfaction". This toy comes from the viral game "Angry Birds"… you can often play this in a tablet, iPhone or an iPad. Angry Birds is a fun toy/game where you "throw cute and colorful birds" to destroy your enemies. Sounds fun right? This is exactly the toy you are looking for when you want 100% guaranteed happiness for your kids.
4. Lego
– Legos are toy-building bricks that can almost make anything from constructing a toy to constructing a person by using varieties of shapes and that is why kids just love them, they love to mix things up! Legos also develop your child's analytic and motor skills, the reason why I placed it second on my top list.
5. iPad
– I chose this as my number one in my top list due to this device's efficiency. It is lightweight and portable and can store a large size of data.This device can also almost do anything like playing games (from puzzle games to shooting games), reading books via "iBooks", drawing stuffs using a stylus pen or even on bare hands, listening to music, watching movies, browsing internet, and many more. You can also use this as a notepad for your children. For example when your child is lost , but when they see the hotline/phone number you inserted to the device… they can immediately contact you.