Baby showers are exciting for everyone from the guests to the guest of honor. From games and food to friends and gifts there are always surprises. Of course you can purchase the usual baby gifts such as blankets, toys and clothes but there are also several unique options that are sure to surprise the new mother to be.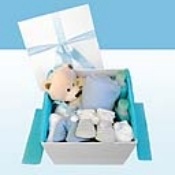 Image source thelittlebox.co.za
Personalized
If you choose to give a store bought gift, check boutique stores that offer personalized items. Have the baby's name embroidered on blankets or pacifiers made with funny sayings. This extra step can make an ordinary gift extraordinary. Moms love gifts that show you took the extra time to create something that they can cherish forever. Other types of personalized gifts can be the first tooth and first haircut keepsake holders. These can be started with the baby's name and finished with dates for each event when they occur.
Handmade
The most unique baby gifts are those you make yourself. You can create homemade receiving blankets in a custom size and match the print to the theme of the nursery. These blankets can be made as small or as large as you wish and can be made from either knit or flannel material. Other handmade baby gifts include soft shoes or diaper covers. If you know the mom will be using cloth diapers you can get a pattern and make some creative cloth diaper covers. The great thing about handmade gifts is that no one will be giving the exact same gift as you.
From The Heart
If you would love to give the child a handmade gift but lack the crafting skills to sew, there is still a great unique gift option for you. Many parents love to frame and hang poetry in the child's room so use your creative skills to write a meaningful poem for the child. If you are good at painting, offer your services to decorate the nursery in the theme the parents have chosen. Many parents enjoy these types of gifts because they can be cherished for years to come.
Unique Toys
Avoid the usual rattles and stuffed animals, you can either make simple soft toys or purchase more extravagant toys at boutique stores. You should look for toys that you can't find anywhere else. If the mother is into organic and all natural products you can look into things such as amber teething necklaces or toys made from natural materials. Many stores have started to offer these products for a reasonable cost.
Humor
Depending on how well you know the parents or the type of people that they are, many humorous items tend to be the favorite gifts. These include onesies, t-shirts, pacifiers and bibs with funny sayings printed on them. Remember these items will be worn or used by a child so while they are funny, you should be sure they are appropriate for a child. A favorite among many new parents are the "I am not a boy/girl" onesie. Breastfeeding moms enjoy items with the phrase "got milk" printed on them.
Marley Freedman has written this article to provide expecting parents with baby gifts that they may want to include in their baby registry.