Where would we be without our fathers? Literally nowhere. That is why you should take the time to thank your dad this Father's Day! The best way to do this is to give him a unique, creative gift. Can't think of anything? That's what we're here for!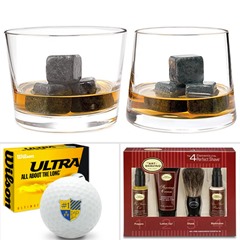 Image source savvysugar.com
Here are three special situations and some great ideas to go with them!
Father's Day Gifts for the Sci-Fi Dad
One of the coolest gifts out on the market now is the Star Trek pizza cutter. The pizza cutter is shaped like the Enterprise from Star Trek. It is an officially licensed Star Trek collectible and can actually serve a purpose in the household.
Another item for your science fiction-obsessed Dad is the Star Wars Cookbook. Whether or not he likes to cook, it's an awesome coffee table book regardless. He can bake Wookie Cookies, grill up Obi-Wan Kebabs or make Jabba's Jiggle Juice.
Father's Day Gifts for Outdoorsy Dads
Plantable Comics Books make gardening look awesome! If your dads like to garden, these collectable comics give the readers great tips to refine their gardening skills. One of the articles even discusses the best snake repellent for yards. Now that's hardcore!
Father's Day Gifts for Gay Dads
If your dads love to read, Does This Baby Make Me Look Straight: Confessions of a Gay Dad, would be a great addition to their collection. With some humor, this very real story tells the tale of raising a child with two dads.
Father's Day Gifts for the Creative Dad
Most fathers out there love to have a beer every now and then. So why not allow them to make it themselves! This can be done with the Southern Bourbon Stout Beer Brewing Kit. Comes included with enough supplies to make a full gallon of beer!
The house you live in has light switches. These light switches are more than likely boring, white panels that just flip to on and off. This is why you should get your father a Toggle Switch Plate. It won't be as good as getting him skunk repellent, but it sure does make turning on a light interesting!
If you have any more creative ideas for gifts to get dad, let us know in the comments below!
Article by Adrienne