If you and your girlfriend chat a lot and she doesn't have a camcorder yet you could get her the beautiful Creative Labs Vado Pocket Video Camcorder pink.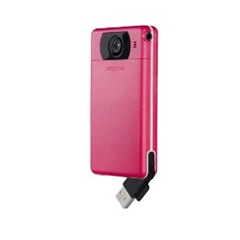 Capture Life… See it, Shoot it, Share it–all in an instant
Capture life's entertaining moments on video and share them online with Vado, the slim, lightweight video camcorder that fits in your pocket. Simple to use, just point Vado and press record for great looking video. Sharing videos online is easy too. Just connect Vado to your computer and built-in software helps you post directly to YouTube or PhotoBucket quickly and easily.
The pink Creative Labs Vado Pocket Video Camcorder cost $59.99 and it is available at Amazon.com.