They say that being a mom is one of the hardest jobs in the world, and you can bet that the mom in your life realizes this is especially true after her first child. How can you make sure that the mom in question feels valued and taken care of when she is dealing with having her first child in the house? Here are five perfect gifts that every new mom is sure to love.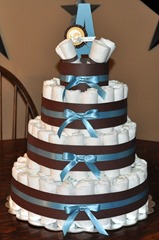 Image source carriesscrapyard.com
Food
The first six months of an infant's life are hectic, and you will find that the new mom might often forget about eating food for herself as she tries to feed her newborn. One of the best gifts that you can give her is the gift of food. Restaurant certificates are out as she will need to stay close to home, but think about having food delivered to her house, whether in the form of hot meals or gift baskets. This can keep her fed as she nurtures her baby.
Diapers
Find out what the mother's stance on diapers is. If the mother is okay with using disposables, you will discover that a few packages of diapers are perfect. If you want a fun way to deliver them, consider making a diaper gift basket by stacking the diapers in tiers that are bound with ribbon. If the mother prefers cloth diapers, give her a gift certificate for a diaper laundering agency.
Journal
A journal is a great way for a mother to record her thoughts, feelings, and frustrations as she raises her child. Giving a new mother a journal will also allow her to record memories. She can include pictures, stories, and accomplishments about the baby. A journal is a great way for a mother to vent her feelings or work out her thoughts. Every new mother would love a leather journal from http://www.rusticoleather.com/ as a gift.
A Babysitter
A mom starts out by wanting to spend every moment with her baby, but soon she will realize that her baby will be fine with good care. At that point, the mom is going to be more than ready to take some time for herself! If you are good friends with the new mom in question, consider offering to babysit for a few hours here and there. In some cases, she isn't even going to want to leave the house; she just might want a few hours to herself.
Diaper Bag
When you are buying gifts for a new mom, do not underestimate the power of a great diaper bag that can hold everything. A diaper bag keeps the mom in question well prepared for every eventuality, so stock it for her with diapers, snacks, wet wipes and everything else she might need. Make sure it's a fancy and attractive diaper bag that matches the mother's taste.
Article by Dixie Somers