When you are choosing gifts to send interstate you need to either order something to be delivered or choose something that is easy to post and is not going to cost a fortune in shipping. Flowers have been sent to all parts of the country for years, even before the ease of buying gifts online. Gift baskets and gift hampers are also great gifts to send interstate as they can be packaged easily and the contents kept safe in the basket or box.
Gift baskets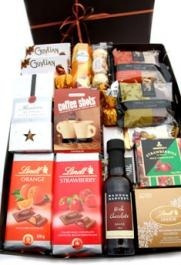 Gift baskets are great to order and have delivered to someone. Whether they come packaged in a box or basket, the items inside are kept safely together and it is always lovely to receive a gift basket. They are easy to order and you can choose from baskets made up specifically for women, for men, for Mother's day, for new mum's or new babies. You could make up a basket yourself but it would work out cheaper to order one already made up. The shipping would also work out cheaper.
Gift hampers
Gift hampers are easy to have shipped interstate too. Gift hampers are great because they are good for any occasion, especially for the festive season. Christmas gift hampers can contain food items like Christmas puddings, fruit cake, ham, glace fruit, nuts, chocolate, shortbread and candy canes. For Easter you can send hampers full of chocolate or a gift hamper can be sent for any occasion, such as a birthday or Valentine's Day. Choose from hampers that have cheese, crackers and wine, chocolate and coffee, jams, chutney and marinades or any other decadent item of food.
Gift vouchers
Gift vouchers are one of the easiest gifts to send interstate because they will fit into an envelope and only cost you a postage stamp for shipping. There are so many larger department stores and chain stores that have franchises in other states, so you will have no trouble finding the right gift voucher to send to a friend or family member interstate. Check whether the store you are planning on buying your voucher from has an outlet near where the gift recipient lives to make it easier for them to use it. Gift vouchers often have use by dates so don't give them a voucher that is from a store that is too far away or somewhere that they only visit every so often.
Clothes
Items of clothing are easy to send interstate. If you know the person's size and taste then half the job is done. If you are unsure of size then get something like a scarf, a shawl or a pashmina which is a one size fits all accessory. The other way to get around not knowing a person's clothing size is to speak to the person's partner or mother and find out through them.
Books
Books are another easy gift to send interstate as they are flat and are easy to package up. Big hard cover books are not such a good idea if you want to keep the cost of postage down, but paperbacks are light enough. Otherwise send them a gift voucher to a book store.