Christmas time is approaching and the Christmas gift list needs to be completed soon. But we are always in a rush with Christmas shopping. It is not a great idea to buy a Christmas gift for your loved ones, just because you have to buy one.
Beef Central presents its Christmas gift suggestion list for the ones from the beef industry or the stakeholders, who have yet not planned presents for their friends and family.
The top 10 gift ideas are:
1. Knife care: If your family and house is anything like the Beef Central's, the dull kitchen knives will be a big source of irritation for the culinary challenged wife or husbands. Get away from the irritation and invest in the latest generation electric knife sharpener presented by the Total Knife care. Electric sharpeners were considered to be very aggressive on the blade and way different than the conventional and traditional wetstone and steel method. But the latest generation sharpeners are made to do precise job in a matter of moments. The excuse for a blunt blade is no longer existent. It can be anything from a vegetable peeling knife to butchering meat weapon. The price ranges from $160 to $ 333. It is available online as well or in a Total knife care store.
2. Setting of myths about the climate changes: The latest book by academician Ian Pilmer "How to get expelled from School: A Guide to Climate Change for Pupils, Parents and Punters," was released this month. This is your chance to find out and let your friends and family know about the political propaganda on climate change which is being fed to the pupils, parents and public. Ian Pilmer gives simple 101 questions to be asked to teachers, activists, politicians and journalists. And yes he has given the answers too!! There is raw data with held by climate industries and they adjust the temperatures accordingly. Apart from raw data, computer codes and information is not given for scrutiny. The predictions made by the computer do not agree with the actual measurements. Previous natural climate changes have been bigger and speedier than the worst case forecasts and still the humans have personalized them. This human being induced global warming may end up becoming the most noteworthy financial and scientific scam in the history of mankind. Our generations to come may have to pay dearly for this. This book by professor Pilmer is priced at $29.95 on retail online stores. It is a great gift option for the inquisitive ones.
3. Christmas with Meat: Ever wondered about the hype about Wagyu beef? Give your friends and family an opportunity to find out.
Kobe's Gourmet butchery in Brisbane and chief Wagyu producers and exporters Cabassi & Rea would be able to send several gift packs of Wagyu beef. The transport can be done within rational distances of major capital cities and regional centres across Australia.
Cabassi & Rea is questionably Australia's most celebrated beef brand and its Wagyu fullblood and F1 products have won countless awards at Brisbane and Sydney Show branded beef contests in the past five or six years. The meat comes from cows fed 400+ days at Geoff Willett's Maydan which is a specialist Wagyu feedlot near Warwick.
At the Beef Central they liked the Special Gift Box which includes eight individually vacuum-packed Red Label sirloin steaks. Red label sirloin steaks are the fullblood Wagyu cattle, marbling score 7-8s. The box also includes a 1.5kg bolar blade roast which costs around $260. The pack of four Red label sirloins is attractively-packaged for around $120. They take online orders as well on www.bestwagyu .com
4. Gift for BBQ lovers: Try the gift from tasty range of Peter Watson BBQ essentials along with the no nonsense cook book called "Fired up". The set includes Chicken, Beef, Sea food, Lamb shaker spice tins and a Peter Watson BBQ and grilling marinade.
The cookbook consists of 100 recipes to aid in the barbeque needs. There is mouth watering assortment of hot plating fare, grilling, amazing photography and distinct modern designs. The book is sure to encourage readers to grab the tongs and start barbequing. The Peter Watson mouth watering marinade recipes complete the barbeque experience. The set consists of
Peter Watson Chicken spice rub 100g
Fired Up by Ross Dobson (221 pages)
Peter Watson Vegetable spice rub 100g
Peter Watson Australian BBQ or Grill marinade 500ml
Peter Watson Beef spice rub 100g
Peter Watson Lamb spice rub 100g
The set is available for approx $119 through red balloon.
5. Kitchen Knives: The I.O Shen Knives have a great reputation for design as well as the manufacture. It is had forged by Japan steel smiths and these blades are leading chefs' prized possession. The harder the stainless steel is the longer it retains the sharper edge. But the problem is, that hard stainless steel can be brittle. The classic chef knife has a beautiful balance in the hand. Irrespective of the butcher's cleaver or a small fruit paring knife it is crafted for a lifetime.
Beef Central suggests the classic knife as an ideal gift and is available online to.
6. Carnivore pride: This cool t shirt is at its best. If it is not available at any local shop, then the non vegetarian society gives you a plethora of options that lets the meat lovers show their love and flaunt their carnivore pride.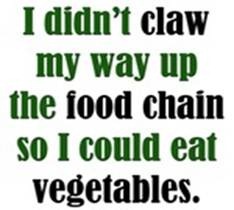 Uncle Grog's Gifts and Apparel offers a good range options.
7. Gift for the tong master: The bar – B chef remote thermometer cooks your meal to perfection. All you need is to set the thermometer to the meat type and the way you want it cooked. Just put it in and wait for the perfect meal to be cooked just the way you like. It saves the trouble of standing near the BBQ and checking the meat continuously.
Let Bar – B cook your meal while you enjoy some fun time with the guests. It is easy to use and a great gift for all time barbequers.
8. Beef and Beer master class: Beef and beer is a match made for each other. This master class by Red Balloon offers two hour cooking class of this wonderful combination. The class has demonstration and hands on experience to provide. The hands on experience is with grass fed beef ribs, beef fillet, pork ribs and coffee crusted prime rib for one hour. The participants get to taste six different types of Australian craft beers.
This master class package offers a goody bag of recipes, apron, beer tasting notes and vouchers to MUMU Grill and Coogee Café after Dark in Sydney. It is priced decently at $119.
9. A masterpiece: The Fiona Lake's coffee table books are unique and loved by people of all age groups and from varied professions. It is a book especially for whom it is hard to find gifts.
'Life as an Australian Horseman' and 'A Million Acre Masterpiece' is absolutely mesmerizing and feature Australian outback cattle stations. The books have around 500 photos of life on world's largest cattle stations.
10. Golden Grill: The barbeque lovers will adore this gift. It is the bling to the backyard as the entire BBQ unit is plated in 24 carat gold apart from the portions of the cooking surface. It has a huge six burner cooking surface, warming rack, roasting hood and a vaporizing grid.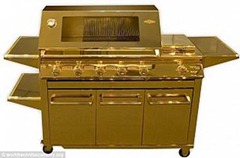 Author Bio
Jason Phillips has submitted this post. He is a freelance writer and a regular blogger. He also sells wonderful X-mas gifts at his online gift shop. He is having wagyu brisket for sale which can be a gift to a beef lover.