It's not everyday that you have a close friend who decides to finally settle down after years of crazy, drunken nights. Thus, it is just appropriate to think of a token that will celebrate this milestone. Before he heads to a new life, here are some gift ideas you can give to your groom-to-be buddy to remind him how proud you are of him and that you are with him every step of the way.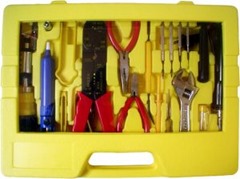 Image sent by author
Home Security Alarm. Now that your big man is about to embark on a more challenging and serious journey, give him something that can be very functional for his new life. There are a lot of security and personal alarms sold in the market that are compact and affordable. Choose something that is easy to install and operate so he won't be discouraged to use it. Just make sure it has good reviews when it comes to durability. Having a good alarm system in the house will tell of his willingness to protect his loved ones, thus surely impressing his future wife.
Tool Box. Every guy must probably remember how he used to watch in awe as his dad authoritatively fixes anything broken in the house just by opening his magical tool box. Well it's time for your buddy to try his own prowess in being the handy man in his very own house. Support him by getting a reliable tool box. This may not be appreciated at first but this will definitely come very handy when the wife starts complaining about the leak in the sink.
Personalized Shirt. Yep, it's as simple as it sounds. Add a personal touch to your present by making it simple and memorable. Have it printed with something witty or an inside joke between you two. Whatever type of humor you have, you can't really expect him to wear that shirt more than once (and that counts the time you are around) though. Still, it's something you both know would make him smile everytime he sees it.
Golf Gear. This is something that the groom-to-be can enjoy by himself, with his future wife, or with you and the boys, just like the old times. Get him a good set of golf gear to give him an option on how he could spend the weekends once he's married. Whether he is a beginner or someone who always enjoyed the sport, he'll appreciate ones with custom fitted golf shafts. This will be a good pastime, different from the usual beer or barbecue. It's also a perfect way for him to destress together with his wife and bond as a couple or explore something new.
Night out with the boys. Kidnap the groom-to-be and place him in the trunk or you can skip that and just enjoy a night out with the boys. Before he bids goodbye to being a bachelor, take your good friend to his favorite bar, pub, casino, hotel, or whichever he likes better. Contact the rest of your friends and organize a night on the town. This could serve as his stag party or just a simple gathering. Either way, make sure to have a good time without getting yourselves into trouble. Remember, no bride wants a wanted man for a groom.
Author Bio
Amanda Smith is a blogger based in San Diego, California. She loves writing about arts and entertainment, travel and photography, fashion and interior design, and just about anything that tickles her fancy. When she's not writing, she's just at home catching up on her favorite sitcoms with her yellow Labrador, Chandler Tribbiani. You can catch more of her works at wordbaristas.com.