Mother's Day is coming, and for those of you lucky enough to still have your mothers with you, I am sure you want to honor the love and selfless care that she provided to you while you were growing up, even into adulthood. It doesn't cost much to remind the person who brought you into this life that she is important to you, and of course it certainly depends on her interests. Sometimes mom has everything, but being a woman, she will always like the following suggested gifts:
1. Books – Who doesn't like to read? And whether your mom likes traditional books or has an e-reader, you can determine what types of books she likes by checking out the books she already owns. If your mom likes cooking or home decorating, check out Amazon – they sell used cooking or DIY/craft ideas books.
2. Flowers – this is a no-brainer. Flowers for mom are the most traditional gift around. If she gardens, buy her packs of seeds to grow her own flowers. Teleflora or 1800 flowers are my recommended stores.
Images sent by author
3. Beauty Products – investigate her product collection, and then go to a beauty store like Ulta or Sephora to see what packaged gifts are available.
4. Fashion – if your mom is active, a nice sport top would work. Or if she likes sundresses, go to Dress Barn or Lane Bryant (for a printable 20% off coupon!) for a lovely summer dress.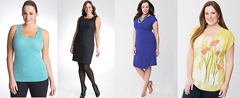 5. Breakfast in bed – this one is so easy, and so cheap, why wouldn't you do it along with another gift?
6. Do it Yourself Gifts – mom always loved your artwork from school. Continue that love with a handmade frame containing a picture of the two of you. Or create a personal e-card from one of the many online e-card shops. If you are really crafty, compile a photo album of all your favorite memories of mom.
7. Household Chores – another easy one! Mom would love help around the house. Write about 20 chores on separate pieces of paper and put into a jar. Have mom select 1-5 of them for you to do. Major brownie points on this one!
8. Cooking Items – does your mom like to cook? There are gadgets galore at cooking stores like Williams-Sonoma. I, for one, love gadgets, and would appreciate a basket full of them. Hint, hint.
9. Music/Movie CDs and DVDs – is mom a media aficionado? CDs and DVDs are inexpensive, and provide hours of fun. Make a movie basket loaded with candy, popcorn and Goobers and set the date for a movie night with mom.
10. Coupons/Gift Cards – who doesn't watch their money these days? Mom would appreciate help in the shopping area. Get her a gift card to her favorite store. Or even better, sign her up at Promocode4share.com, where she will find great coupon codes to use at popular U.S. stores.
Hopefully one or more of these ideas will work for you. And tell your mom, Happy Mother's Day from me.
Article by Rosy Vu