This is no longer the time of once in a lifetime post retirement vacation. Many seniors travel all by themselves for getaway weekends, visit their grandchildren and go on senior citizens cruise with friends.
Though the travels have become vibrant and fun filled, the travelling needs for seniors vary from their needs in the twenties.
There is a wide choice of gifts and equipments available when there are seniors travelling with you. Thinking about their needs in advance makes the travelling fun for you as well as for them. If you have grandparents who enjoy travelling, but you don't want to gift them the boring traditional gifts, here are some smart choices you can make. They will love the gifts and will have great use for them too.
Travel Magazines: This is one of the top gifts for senior travellers. They love to travel and want to be aware of the top locations, the travelling expenses and other tips for travelling. Good travel magazines provide all this information. It makes sense to gift it; it is the beginning point of any travel trip.
Neck Pillow: They would never wish to have a neck pain while travelling as it does not go away as soon as one gets older. You can pick a nice inflatable pillow which can be compact and easy to carry in the luggage.
Noise cancelling headphones: These are a great device to counter the long flights. Travel can get tiring when changing time zones and can suffer jet lag. Headphones help in giving you a sound asleep while flying long duration flights keeping away the noise of cranky babies or chatty people.
GPS: Not all senior travellers go by flights or cruises; some just pull out their cars and go on road trips. For such trips they surely don't want to get lost when sightseeing or searching for beautiful sights. When buying GPS make sure it is easy to use and handle.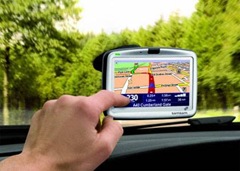 Walking Shoes: When seniors travel, they often want to explore the places on foot, but the legs can get tired easily at this age. Buy them the ideal walking shoes, comfortable and the right ones. You can gift them in their favourite color as well for their sightseeing excursion. A gift they will surely cherish.
A money Belt: Having an easy access money belt to keep the passports, keys, credit cards and money would be a handy thing for our senior travellers. It gives them the peace of mind keeping their stuff safe from pickpockets. It is very important to have travel documents handy. There are plenty of mini bags you can chose from for gifting.
A Travel Purse: An ideal gift for your grandmas' can be a travel purse, to keep all her tit bits, glasses, napkins, wallet, a map, tour guide, hotel address, important documents, a snack and water. Chose something compact and not very bulky so that it can be easily carried along with.
Small Light and Magnifying Glass: At times the print on tour guides, or certain descriptions is very fine. A magnifying glass comes in real handy that time. The small light comes in useful when searching for things in the darker places.
Light weight luggage carriers: Gift the senior traveller, a set of light weight luggage, which they can easily pick and move around if required. Heavy luggage pulls out the joy of travelling and they can continuously keep fretting about the heavy luggage.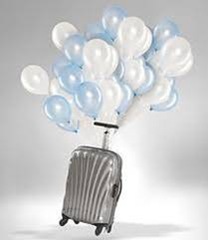 Medication box: With the age they need to take particular medicines regularly and also while on vacation and trips it becomes necessary to carry certain general physician recommended medicines for common illness. A medication box with compartments probably can help them keep all the medications organized and they don't have to dig in the luggage and search for them.
Other travelling equipments: Small travel equipment can come in real handy for our senior enthusiastic travellers. Power adapters, international cell phones, pre paid cards, book of travel tips are some practical gifting solutions when seniors travel abroad specially.
A seat cane: This is an ingenious gift, which can be used by elders for walking and can be converted into a seating chair by the simple push of the lever. It wards of the fatigue and they can have a fun filled travelling time.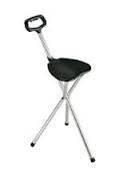 IAMAT (International Association for Medical Assistance to travellers): This may be the best gift for the senior travellers. They at times have pre existing medical conditions and can return while travelling. Jet lag, exposure to infections, germs etc can be some of the conditions they can face in foreign land. IAMAT is the solution in case they fell unwell. It gives competent care to travellers. The membership to IAMAT is free. It will give them a peaceful vacation time knowing that their health is taken care even when travelling.
Give your seniors travellers a fun time when they go on vacations!!
Author Bio
This post is shared by Jason Phillips. He is a regular guest blogger and writes articles for Israel Jewish tours. In his free time, he loves to do travelling and horse riding.