Nowadays, having a successful business is about more than just being a good provider of services and products for customers. Because there's such a competition you have to overcome, a successful enterprise must always find new ways to please its clientele and attract new buyers. It also has to make sure that employees are satisfied with their workplace, and that they're really taken care of in a correct manner.
To make a name of yourself in a particular industry, you have to consider making a good impression. How to achieve this? One excellent idea would be to use corporate gifts. More and more companies opt for this method because of the many benefits it can bring. Corporate gifts matter a lot for your company's success. They raise awareness and make your brand known, and they make people interested in what else you have to offer.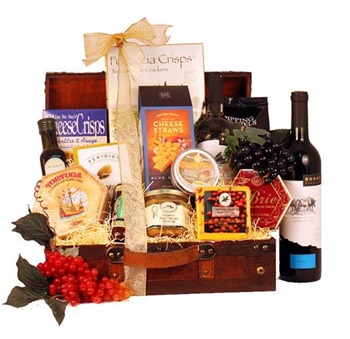 Images sent by author
Corporate gifts boost productivity, although it's not that easy to find an ideal present. Sometimes, it can be a struggle. Interesting ideas always work best, although you should also focus on functionality and use. Here are some of the best you can use to promote your company.
Corporate gifts for employees
It is essential to keep your employees satisfied at the workplace. This is a sure way their productivity will increase. Corporate gifts may help boost their productivity, and thus engage and motivate them. A good option for them would be a corporate gift basket. These baskets may include products like chocolates, different sweets or wine. These are the best options because you can't know all of your employees' preferences. Companies that can afford to spend more can always decide on cooler gifts, such as tech devices. New company smartphones and tablets can help boost your company's bottom line.
Promotional gift baskets
These promotional baskets are meant for potential and existing clients. Thoughtful gift baskets will improve the impression clients have about your business. Promotional gift baskets should include items of everyday use like mugs, diaries or key chains but make sure they are customized with your company's logo. You can also include some delicious cookies or even flowers. Make sure these products are well-arranged to impress receivers, company associates, negotiators and future collaborators.
Promotional gift baskets should not be meant to overly advertise your company. Keep it cool and be considerate. You want to awake people's interest not force them to accept all kinds of items with your company's logo imprinted on them. Sometimes, the smallest details have the greatest impact. Think about this aspect and do whatever you can to promote your company without actually promoting it.
Business to business corporate gifts
Your successful business does not only consist of employees and customers. There are many other businesses that support yours each day. Without their help things would be a lot more difficult. That is why it's very important to show them your appreciation and respect. You can do that by sending them some useful corporate gifts. It is not advisable to send them gift baskets. You should consider more adequate options like discounts for some services or add-on services. These are simple gifts that won't cost you too much, but you'll see you they actually make a huge difference.
Unusual corporate gifts
Sometimes, the most appreciated corporate gifts are the most unusual. Just think about it: what would a potential customer/investor/partner want from a company he knows very little about? Because work is demanding enough, many people appreciate relaxation. Have you ever thought of gifting them a day at the spa? Wrap it nicely in an envelope with both your company's logo, and the logo of the spa. This will draw a lot of attention, not to mention that receivers will certainly want to know more about you afterwards.
When it comes to corporate gifts, it's really important to think outside the box. Wine bottles and exclusive foods are fine, but sometimes it's a much better idea to dig deeper, and really select something that's useful to people. As you can see, picking the right corporate gift is not a simple task. It's something that requires a lot of creativity and effort. The wrong gift might diminish your company's level of recognition rather than increase it.
By Jason Phillips and VeritasGifts.co.uk!