This funny gift ideas is for people who love a good beer. The Talking Beer Glass is a device that falls under the cool stuff you never knew you needed category.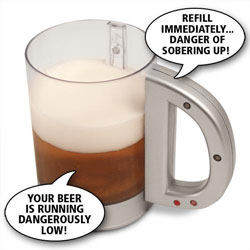 As you sip your fine ale and concentrate on the game, the glass can warn you that you are imminent danger of finishing your beer with one of three standard warnings:
"Your beer is running dangerously low."
"Refill immediately – danger of sobering up."
"Cheers!"  if you don' have any friends to enjoy the game with.
Of course we'd like a few extra warnings such as:
"Your beer's getting warm finish it quickly."
"Don't drink this one, you've put out a cigarette in it."
And the comforting:
"Don't worry, there's still another bottle in the fridge!"
The Talking Beer Glas cost $28 at Gizmodude.com
Other funny gift ideas for beer fans: